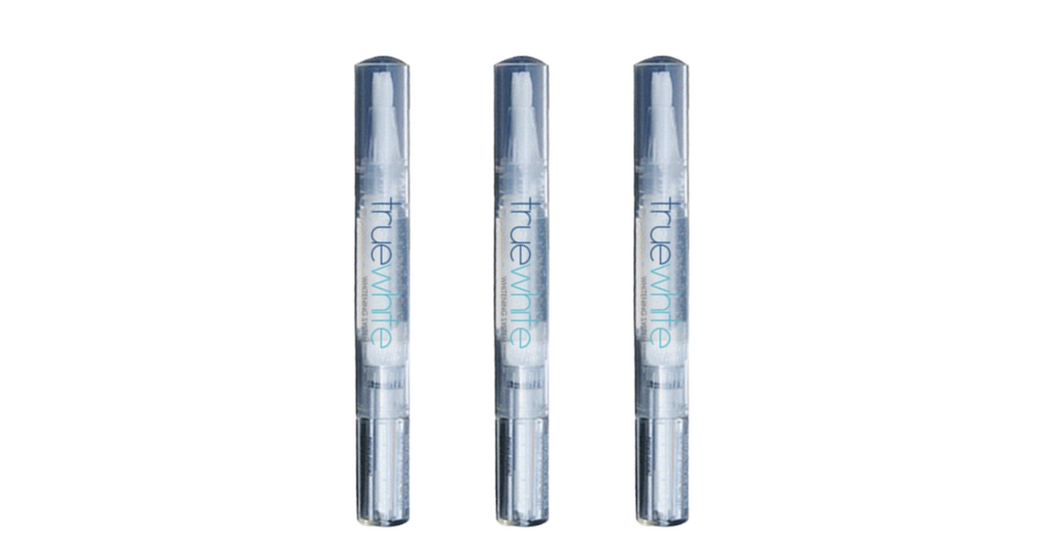 truewhite On The Go Teeth Whitening Pen 3 Pack
On The Go whitening pen makes it easy to whiten your teeth at home or on the move.  Twist the bottom of the pen to expose the whitening gel and paint onto each tooth to whiten in under 1 minute. No trays, molds, dentist visits or mess to deal with!

Clean tube design allows you to see exactly how much whitening gel is being used and is left in the pen. The whitening gel is thick to prevent leakage and the pen device uses a strong twisting mechanism to push the gel through the brush tip for each use. Avoid low-quality competitor whitening pens that leak, break or aren't full of gel!

Contains 12% Hydrogen Peroxide whitening gel to break down and remove stains on the surface of the teeth from coffee, wine, soda, tea, smoking and more! Pen includes 15+ whitening treatments and gel comes in a cool, mint-flavor for a refreshing smile every time. Gel is made in USA, gluten-free, kosher and safe for enamel.

Use this pen 1-2 times per day. See visible results after just a few treatments and get 4-8 shades whiter with consecutive use. Perfect for removing years of stains or maintaining your already bright and beautiful smile!

The pen measures 5" and has a sleek tube design so it fits in any purse, pocket or storage area. The flexible brush tip makes it easy to paint the whitening gel inside crevices and across the surface of the teeth — so every visible part of your smile is whitened!